Average Cost of Car Insurance
The average cost of car insurance varies by state, as each state has its own set of requirements and costs. The average cost of car insurance for the United States as a whole is $66.25/mo or $795/yr, although studies show that car insurance is more expensive in states with healthy economies. Learn more about the average cost of car insurance as well as your options here.
Free Insurance Comparison
Compare Quotes From Top Companies and Save
Secured with SHA-256 Encryption
UPDATED: Sep 7, 2021
It's all about you. We want to help you make the right coverage choices.
Advertiser Disclosure: We strive to help you make confident insurance decisions. Comparison shopping should be easy. We are not affiliated with any one insurance provider and cannot guarantee quotes from any single provider. Our insurance industry partnerships don't influence our content. Our opinions are our own. To compare quotes from many different companies please enter your ZIP code on this page to use the free quote tool. The more quotes you compare, the more chances to save.
Editorial Guidelines: We are a free online resource for anyone interested in learning more about life insurance. Our goal is to be an objective, third-party resource for everything life insurance related. We update our site regularly, and all content is reviewed by life insurance experts.
If you're actively shopping for car insurance, you may be curious what others are paying for their coverage. If your neighbor is paying a fraction of what you are, you may want to know who they're insured with and why they're getting a better price. While cost isn't everything or even the most important factor in an auto insurance quote, it's an essential consideration. If you're too far off the average cost for your area, you should ask why.
While it's hard to get an apples to apples comparison given all the options and variables, such as driver history, type of car, credit score, zip code, applied discounts, and so on, it can still serve as a barometer to what you might pay.
[How are car insurance rates determined?]
The table below displays the "average cost of car insurance by state," broken down by liability coverage, collision coverage, and comprehensive coverage.
Generally, liability-only car insurance is required in each state. So this breakdown will give you a better overall picture of what the associated costs might be with some or all options included. You can add on things like personal injury protection (required in no-fault states), collision, and comprehensive coverage. If you're financing or leasing your car, these additional coverages would be required.
The data is based on 2007 auto insurance premiums, the latest available, as provided by the National Association of Insurance Commissioners and reported by the Insurance Information Institute (III).
Per the III, car insurance is more expensive in states where the economy is healthy, as it leads to the purchase of newer cars and higher associated coverage to protect those vehicles.
States with large urban areas and high traffic density also increase car insurance rates, as do higher theft rates and minimum liability limits. If your car is more likely to be in an accident or otherwise damaged leading to a claim, your insurance rates will rise accordingly.
Using the numbers below, you can see how your car insurance rate stacks up to the average in your state, and the average in the nation, which is $795.
If you're paying a higher insurance premium than the average driver, be sure to ask your auto insurance company or independent agent to explain why.
What are the national average car insurance rates by state?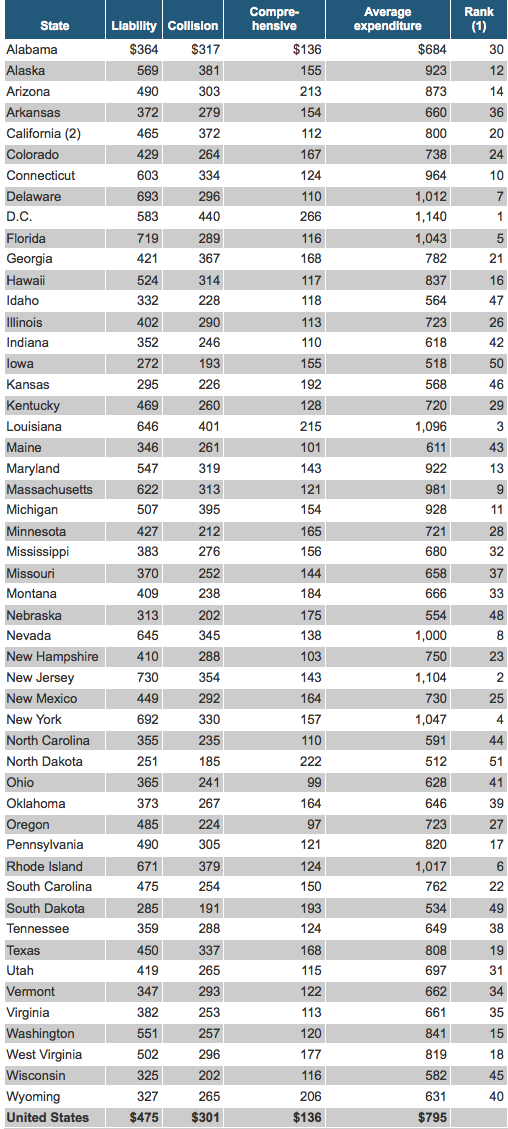 In 2010, InsWeb.com noted that the median car insurance rate for a six-month policy was $702 in the United States. So insurance costs went down over the past few years.
However, women paid a median car insurance rate that is roughly five percent lower than men, or $683 vs $720. While some states have now outlawed the practice of charging male drivers more than female drivers, male drivers are statistically more likely to be in an accident, especially in their younger years. Average rates are higher for men, but the increase in insurance costs after the first accident is higher for women in many states.
Driving records and the replacement cost of cars driven plays into this. When you consider customized coverage costs to cover custom parts, the difference becomes even wider. (why car insurance is cheaper for women?).
But forget about men, it's teenagers that pay the highest car insurance rates, with the median rate for drivers 19 and under a staggering $1,300 (why is car insurance so high for teenagers?).
That's more than double that of the group with the lowest reported median rate, those aged between 60 to74, who pay just $596 for a six-month policy. Teens have the unfortunate disadvantage of little to no prior driving experience. Teens are more likely to be involved in accidents. So until they get a few years clean driving experience under their belts, they'll pay more.
Compare Quotes From Top Companies and Save
Secured with SHA-256 Encryption
National Average Car Insurance Rates by Demographic Group
All Groups: $702.00
Men Only: $720.00
Women Only: $682.50
Age Group: 19 and younger $1299.50 (how much is car insurance for a 16 year old?)
Age Group: 20 to 24 $967.00 (why is car insurance higher for a person under 25?)
Age Group: 25 to 29 $743.88
Age Group: 30 to 39 $704.00
Age Group: 40 to 49 $684.13
Age Group: 50 to 59 $614.63
Age Group: 60 to 74 $595.75
Age Group: 75 and older $633.50
Keep in mind that you do have some control over what you pay in terms of insurance premium, thanks to the wide array of available discounts (good student discount, good driver discount, hybrid insurance discount, etc) and optional features. This is true for drivers of minivans, sports cars, and virtually any other type of street legal car.
How can you find the lowest annual insurance premiums for your car?
Whether you just need liability or more comprehensive insurance, you can find competitive rates. Be sure to gather insurance quotes online and speak with an independent insurance agent to shop your insurance with multiple providers. If you only get one or two quotes, you might get lucky and get a great rate. Many people end up paying more than they have to or not getting the coverage they could.
When you get multiple quotes for similar coverage, you can see who's the cheapest. You can also see the differences between quoted policies more easily. Then you can make an informed choice on annual premiums and more.
If you're looking for new safety features and the right car, you might go through multiple sites including ads to find the perfect car without necessarily paying the full retail price. If you're looking for auto insurance, you can get multiple quotes in minutes when you start by entering your zip code in our calculator. You may be shocked by the auto insurance rates available to you.
Read more: How can I lower my car insurance rate?